For Immediate Release: May 21, 2019 – Lebanon, Ohio – Formed in 2018, Lunch On Us has been fundraising to help provide lunch to students and alleviate the lunch debt incurred in Lebanon City Schools. To date, Lunch On Us has raised $5,000 to help students at Bowman Primary School in addition to supporting the Class of 2019.
Renee Forrester, Lunch On Us Project Leader, stated "We were inspired by the recent news story about Philando Castile's mother continuing his charitable work by paying for the lunch debt of graduating seniors in Illinois. Lunch On Us decided to help our Lebanon High School seniors erase their lunch debt so they would be able to receive their diplomas on graduation day. We truly wanted to make a difference and give our graduates a fresh start as they completed high school."
This fundraising milestone would not have been achieved without the support of the community and the employees of Lebanon Ford. Jeremy Harrison of Lebanon Ford decided to challenge his fellow co-workers to make donations to Lunch On Us. Harrison remembers his humble beginnings as a student. The mission of Lunch On Us was something he felt strongly about and wanted to make sure students were being feed and not feeling shamed.
The need to assist families and students with lunch has grown in recent years all across the country. Here in Lebanon this campaign is a way to ensure all students have lunch. Lunch On Us believes that students should be focused on doing their very best by getting good grades and participating in activities, not worry about lunch debt. The donations to Lunch On Us will fill the gap and give their families some relief. The goal of this campaign to make sure each and every student receives lunch.
Forrester said "I think of all the activities I've enjoyed over the years; the music, the plays, the art shows and the sports. These students put their heart and souls into their learning and activities; we need to be there for them. With everyone giving what we can, the Lebanon community can eliminate school lunch debt and all students can receive free lunch on us! It's the least we can do!"
Donna Davis, President of the Lebanon City School Board of Education, stated "Our district and our students have been truly blessed by the generosity of Lunch On Us. They have provided $5,000 for student lunches, benefitting so many of our kids! Thank you is hardly enough to tell the lunch on us group how grateful we are for their generous gift of providing lunches for our students, as well as for caring about our kids and community."
There are 2 ways to support Lunch On Us:
1) Donate Online at www.mlklebanon.org/lunch-on-us
2) Mail a check made payable to MLK Lebanon, memo section – Lunch Debt Program, PO Box 1671, Lebanon, OH 45036.
For only $13.25 one student will receive lunch for a week - a little goes a long way. And $26.50 feeds a student for two weeks; $79.50 feeds a student for a month; and $251.75 to feed a student for the rest of the school year (19 weeks).
Lunch On Us is sponsored by the MLK Community Coalition of Lebanon, in partnership with Bethel AME Church and Resurrection Lutheran Church.
The mission of the MLK Community Coalition of Lebanon, Ohio is to honor Dr. King's vision of justice by building an inclusive network of individuals and organizations that work toward empowerment for all people.
###
For more information contact:
Renee Forrester, Lunch On Us Project Leader, (513) 265-5150, forresterreneegigi@gmail.com
Karen Schaeffer, MLK Lebanon Coordinator, (513) 932-7919, katms@cinci.rr.com
Raye Kimberlin, Publicity, (513) 258-1017, rayekimberlin@gmail.com
Pictured (l-r): Jeremy W Harrison, Karen Schaeffer, Renee M Forrester, Bonnie Whigham Kasik, Raye Kimberlin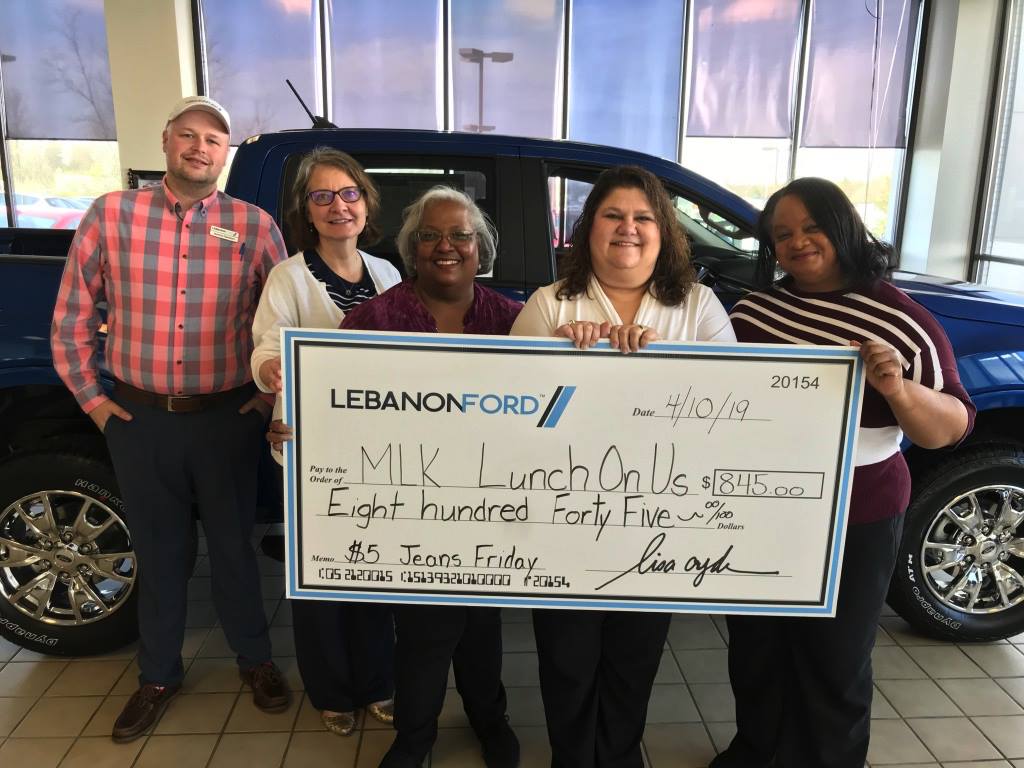 Categories: None